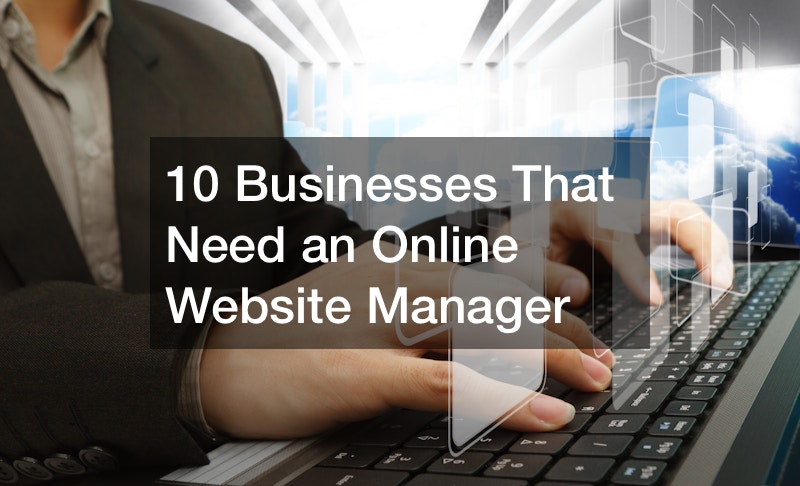 10 Businesses That Need an Online Website Manager

According to Zippia, 75% of people conclude how credible a business is based solely on the business website. Therefore, if you're in doubt about whether or not you should have one for your business, the numbers don't lie. The following are some businesses that need an online website manager to ensure they get the most out of their efforts.
1. Medical Professionals
A medical website helps to establish brand awareness and a strong online presence, making it easier for potential patients to find you when they need your services. One may argue that social media platforms serve the same purpose. However, there could be several users with the same name as yours, but hiring a website manager to create and help run your website will make your business stand out from the crowd.
For example, if you're running a small eye doctors office, a website manager will help you strengthen your brand, educate patients on the services offered, and showcase how you run things in your practice. However, you'll need to ensure the manager you contract is familiar with all new optometry techniques and technologies. For your website to be effective, your manager will ensure it's user-friendly.
Potential clients will likely access your website through mobile phones, PCs, or laptops. Therefore, your online website manager will ensure they can easily navigate your platform by adopting responsive technology in the design. Responsive technology allows your website to realign itself to the display screen of different devices.
2. Law Offices
According to a publication by Fred Lebhart, law is a drastically changing industry. Along with these changes, there's a need for each law firm to create an online presence through unique channels like websites. If, for example, an employee gets injured in the workplace, they may need to contact a personal injury law office to help them file their claim.
Should they be referred to a specific law firm, their first resolution would be to look up its website. A law firm with a website will likely attract more clients than one without. Therefore, you must contact an online website manager to help custom-make a website that attracts new clients.
As much as you may want to do everything yourself, it isn't practical. Hiring a website manager will allow you to concentrate on other pressing issues in your firm. They'll also help ensure the website is always secure, so it doesn't get compromised, protecting your law firm from malicious online attacks that could negatively affect your business.
3. Landscaping and Plant Companies
You've probably come across the saying, never judge the book by its cover. While this might be true in most instances, your website is one of the few instances when the saying loses meaning. According to SWEOR, a potential client may click off your website in just 0.05 seconds after deciding it's not worth their time.
Your landscaping and plant company should have a persuasive website that can influence visitors to spend more time on your website. Hiring a qualified online website manager is the first step to ensuring visitors browse your website for longer. They know what it takes to keep potential clients engaged.
Since landscaping is all about transforming the physical appearance of a piece of land, your website manager will ensure your platform has a list of services offered and professional before and after pictures of projects you've previously worked on. Doing this will help a potential client to see the changes in a piece of land compared to how it was originally. Consequently, a client can make an informed decision to contract a landscaper from your company.
4. Contractors
Contractors are service providers who work on a contract basis; after completing one project, their off to look for the next. Going from door to door searching for work is tasking and may not give you the desired results. However, marketing your business and services online will help bring you clients. One great way to achieve this is by creating a website with the help of a credible online website manager.
A common feature of an effective website is testimonials. If, for example, you've been a plumber for some years, you've probably worked on different projects where the clients were satisfied with the plumbing you did. Yes, recommendations by word of mouth will help bring clients, but when they share their testimonials on your website, they can reach a wider variety of people.
When you hire a website manager, they'll be responsible for responding to any negative or positive customer reviews. They'll thank those who are happy with the services and offer to resolve issues for unsatisfied customers. Doing this will improve your customer service.
Showcasing yourself is another important aspect of a website, usually on the About Us page. If your company offers general contractor services, this is the page where you can illustrate what sets you apart from other competing companies. An online website manager will use search engine optimization when developing your website to help your business rank higher when people are doing online searches.
5. Creative Business
If you're thinking of venturing into a creative business such as interior design, hiring a website manager to help you with your website is vital. Interior designers often overlook the importance of a website, with most of them opting to use social media instead. Not to negate social media's role in business, but a website will help reach everyone, including those who aren't on social media platforms.
A qualified online website manager can help you create a website that's easy to maneuver and one that can impress potential clients at first glance. Remember, your website will act as the business portfolio where you get to showcase your project. Therefore, ensure you use pictures that capture your best work to nudge potential clients to contact you on their projects.
The website manager you contract will also include a blog section on your website. A blog provides a platform where you can show off your expertise in interior design. You can use this section of your website to answer all clients' questions and give additional tips on how your clients can improve their spaces.
6. Moving and Storage Businesses
With the number of moving companies and storage facilities in the United States reaching an all-time high, you must create a website that makes your business stand out. Due to the competitive nature of the business, you will need to hire a qualified online website manager who can develop and manage your website to generate leads. They'll develop an easy-to-use, friendly, fun website with real-life pictures for a more personalized feel and indicate the packages offered and at what prices.
Whether you are running a private or public storage facility, a quality website will help to increase your client base by turning the visitors who visit your website into paying customers. When creating your website, your manager will borrow inspiration from current trends to ensure it meets modern standards. A modern website will help establish a professional business image, generate returns from your investment, and make your business easier to find online.
7. Retail Stores
According to a Visual Objects study of about 500 small businesses, 60% have websites, half of which have employed website managers to help maintain their websites. The remaining 40% of businesses that don't have websites have cited a lack of time, competition, and knowledge for website management as their reasons for not having websites. However, in today's world, not having a website is equivalent to having a display window that's covered up.
Even if not for commercial reasons, this 40% of businesses should have websites to provide potential clients with information about the brand. For example, according to Statista Research Department, the US had 6,638 paint stores as of September 2022. Therefore, if you run a paint store, having a website will create an online presence for your business and make it stand out, giving it an equal chance to compete in the market.
8. Small Businesses
According to SCORE Vice President of Marketing, any business without a website misses out on many clients who would shop on their websites. If you're running a small business and don't have a website, or you have one, but it's inactive, it's high time you contact an online website manager to help you create and maintain your website. As previously seen, some factors that influence the decision by the 40% of small businesses that don't have websites are cost and time.
Truth is, some website developers charge large sums of money, up to $150,000, for their services, according to SPD Load. The amount a developer charge depends on the website type you require. However, if you're a small business, such as a local roofing service provider, you don't need to take on a project that will dry your accounts; you can use website builders, which cost about $1,000 instead.
The period it takes to develop a website depends on the project's complexity; it could take a few weeks or six months. However, if you need your website to be up and running within a day, AI technology can aid in that. It just requires you to give information on your brand, and within a few hours, AI populates a customized website for your business.
9. Funeral Homes
According to IBISWorld, the funeral homes industry has a market size of $19.5 billion as of 2023 and is expected to grow at an annual rate of 1.5%. Currently, there are 24,636 funeral home businesses in the US. You must hire an online website manager to help you develop a website that sets you apart from the rest of the competition.
The paperwork needed after a family has lost a loved one can be quite tasking for the bereaved family. Therefore, most of these families hire funeral services to allow them to moan peacefully. The contracted funeral home ensures all the paperwork is in order and helps to take care of permits, memorial services, and prepping the deceased for burial. Your website manager will include this services website to ensure clients understand the services offered and give you a competitive advantage.
10. Educational Institutions
Education institutions can also benefit from hiring a website manager. These professionals can ensure the website stays current with class schedules, events, registration, and faculty information. A visually appealing and user-friendly website is key to attracting visitors.
The slightest hiccup can make them move on to the next website. When you hire a professional, they'll optimize your website's design to make it more contemporary, user-friendly, and responsive. These factors determine the amount of traffic and engagement a website receives.
Integrating student information systems into an educational institution's website provides students access to grades, class schedules, and other crucial information. An online website manager can help you do this to improve communication and access to important information. While it may not seem like it, this can help build a good reputation for the services offered by the institution.
Educational institutions often deal with sensitive information such as student records, personal data, and financial information. A secure website is vital to preventing unauthorized access and ensuring the privacy of the institution's stakeholders. A website manager can help ensure the website is safe from cyber-attacks.
Another important aspect of a website is accessibility compliance, which ensures all users, including those with disabilities, have access. It's an especially important consideration for educational institutions. A professional website manager is familiar with accessibility guidelines, so you don't have to worry about not complying.
If you're ready to take your business to the next level, it's time to direct some resources to establish a business website. Potential clients are more inclined to hire the services of a company that has a website over one that operates on social media alone. Bring an online website manager on board to ensure you get the most out of your efforts.