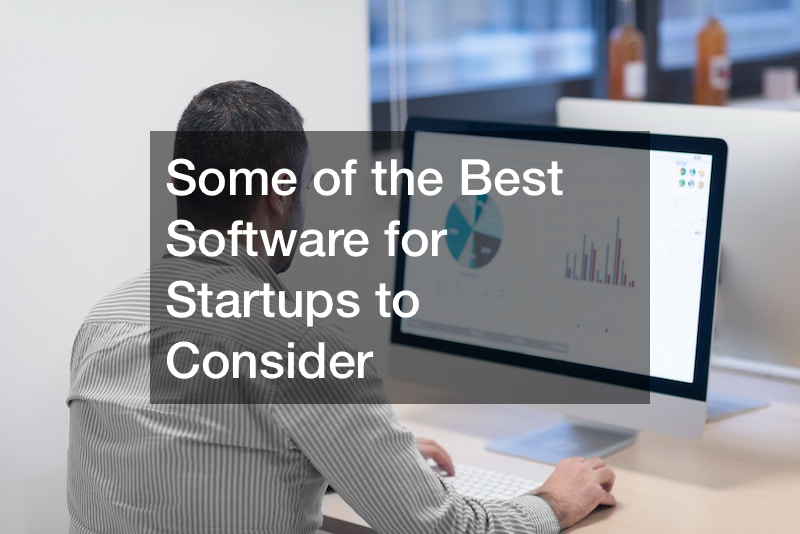 Some of the Best Software for Startups to Consider

In today's day and age, free enterprise and technology go hand in hand. It is estimated that there are over half a million startups in America every year, and many of them are in tech. Still, hundreds of thousands of them are not. At the same time, the world economy is functioning in the digital world, and the most successful businesses in the world are using tech to get, retain, and process their customers and their data. If you are a startup or considering one, you'll want to ensure that you have the best software for startups at your disposal. Software applications are integral to the success of every business today. Learn more about the best software for startups today right here.
Blender
Blender may not be a name that you are familiar with, but it is one of the first and best software for startups in the graphics industry today. Any business with a marketing plan can benefit from using Blender. And, if you don't have a marketing plan, you will not succeed. Whether you are running a pipe fittings business or are selling your graphics designs, Blender can help.
Blender is a free application that is also considered open source. This means that anyone can access it and experience safe and reliable downloads. Open-source applications no longer have the bad reputation they once had when open-source software programs were resulting in viruses and glitches on major desktop systems. For big-name software programs, open-source software like what Google offers, is a sign of credibility.
With Blender you can create and print graphics designs for a variety of projects. From an animated film to a 3D item, Blender can help you to bring that project to life. For anyone who is obsessed with graphics, Blender allows for several different features and simulations that mirror modern art. You can use particle simulation, sculpting, and rendering to create anything that you want that will bring motion to your pictures.
Mozilla Firefox
Although it is not the most widely used browser for going on the Internet, Mozilla Firefox is a household name as an open-source browser that doesn't cost a thing. This browser uses a unique Gecko rendering system to bring you web images that are rendered slightly differently than other browsers. The Firefox brand has undergone several different changes in its history.
It has been called many different names in its time, from Quantum to Phoenix. It is available on every device and compatible with every operating system that is commonly used today, including Linux systems. Firefox to the layperson and everyday user is just a browser that can help you to locate florists near you or create an Oscar-winning project. While not the most popular, it is still used by 32 percent of the population browsing the Internet today.
Firefox has had an interesting history with its competitors Google Chrome and Internet Explorer. In its early years, it was more popular than Internet Explorer 7. This is still the case for many users as Firefox offers an easy-to-use interface with fewer extensions glitches and a smoother browsing experience. It is ranked number four on the list of popular browsers today, giving it a sweet reputation as one of the best software for startups today.
Dropbox
Whether you are conserving projects on a waterborne pathogen or saving a child's wedding or graduation party, Dropbox is an ideal storage solution for all of your digital assets. It is considered one of the best software for startups, as it offers you a digital storage solution that competes with other brands. Where other brands may dictate what cloud computing system you use to save files and images, Dropbox says, you can put anything here from any device or operating system.
Dropbox is a file hosting system that you will have to pay for, but it can pay off in time. When you consider the value of your digital assets and the size of that value if you incurred data loss, Dropbox is a worthy investment. Any business will go down today if it loses customer data or trade-specific information. This system is the product of a dream by some MIT students who were a startup once themselves.
In this application, your files go to one place and can be stored on any device. Dropbox will synchronize your documents and help you to keep them up to date. This is a cloud computing system that is compatible with Windows, macOS, Android, iOS devices, and Windows phones. Save and store anything here.
Skype
Skype is a software platform that for some is social anxiety therapy and for others on the list of best software for startups. This system is an online chat system where users can meet and greet for any reason at all. Today it uses Voice Over Internet Protocol to provide telephone operations using the Internet alone. While it is a great social tool, for some people it is a necessity.
Skype offers Internet phone calling without having to be connected to a wireless or telecommunications carrier or provider. You can use your Internet provider, or a free Wi-Fi service to access the Internet and make phone calls online. This is a software application that is also free and open source. It is compatible with any desktop device and is also now available on every mobile device as a free and open-source application for download.
Today, it is estimated that Skype is used by over 100 million people every month. It was acquired by Microsoft in 2011 and is now a leading Internet communication system. It once began as an Internet chat relay service created by Estonians. It has developed with updates into a video, audio, and phone service used by tens of millions of people every day.
Adobe Photoshop
Adobe Photoshop is a graphics editor that can bring your branding to life. It is an excellent tool that is easily on any best software for startups list. This program is a graphics program that can help you turn any photo or image into something else. You can tweak a little here, or completely re-design an existing image.
In a world where nondestructive editing to imaging is the latest trend, Adobe Photoshop is an application that has been doing this for over a decade. Nondestructive editing to photos allows you to retain a photo's original integrity, but change it somewhat without altering the original. So you might add brightness or depth with imaging features to an existing photo to make it more exciting.
For everyday photos we don't need this, but Adobe Photoshop brings business images a vision you can't see without trying it first. It uses PSD and PSB formats and rendering to help you create images that will sell your product. These file formats are exclusive to Photoshop as Photoshop Document and Photoshop Big file formats that can be converted to more compatible software files and used across many devices and operating systems. This software application does require a license but will be an investment to any company that performs in-house work with imaging.
Audacity
Audacity is on the list of the best software for startups and is an ideal application for performing non-destructive editing of images. SEO companies and businesses that are starting up on a budget can use Audacity for free as an open-source application with features that can help you with audio projects. This application may not have all of the features that audio applications with a license can give you, but it is a good start for startups.
Although not the most popular non-destructive editing application, this software has been used since 1999. You can use many different sources to edit from, and can teach you the arts of trimming and fading as well as normalization of your files. Audacity is popular enough to be taught in audio development schools and universities. Record many tracks at the same time, or work on a single file. Once you're comfortable with this software, you may want to consider upgrading to higher-end digital audio workstations (DAWs) like Ableton Live or Pro Tools!
TeamViewer
Team Viewer is an ideal program on the list of best software for startups as it offers your company a global application where you can monitor your technology systems. This application can help you to connect, control, and monitor all of the devices and systems on your business network. Businesses of all sizes use Team Viewer for IT management and have been since 2005.
Today, the company has an annual revenue of over $500 million. Whether you are a startup tax accountant or a hedge fund manager with hundreds of employees, Team Viewer can help you keep an eye on things. The software has been in use by thousands of companies all over the world since 2005.
Adobe Acrobat
Adobe Acrobat is also a household name that is on the list of best software for startups because you will find it easier to create PDF files if you have it. While many other companies can convert files into PDFs, Adobe Acrobat can streamline this experience. Whether you need a corporate event catering brochure or are representing the law for your clients, Adobe Acrobat can help you keep document creation and administration in check.
Adobe is home to the first PDF file system in the world. This is a system where we use portable document formats (PDF) that can be ready by any device anywhere. Where once we had to have Microsoft Word or Pages, today anybody can read those documents in PDF with Adobe. You'll want this license if you create a lot of documents.
Microsoft Office
Microsoft Office is among the best software for startups because it has everything every business needs. If you know how to create a spreadsheet, you can save costs on a bookkeeper and purchase this license instead. Microsoft Office is among the largest applications when it comes to software for business. Here you can create documents, spreadsheets, and presentations with just a few clicks.
Microsoft Office is possibly one of the oldest office suites for startups. It was developed by Microsoft's Bill Gates in 1988 and has undergone many updates in its time. Since its inception, people all over the world can do things with documents, presentations, and spreadsheets that they never have done before. The average ledger for a business 50 years ago just does not exist today in most startups.
Performing business applications is just easier with Microsoft Office. It is a system that is now compatible with every device in the world and works with every operating system. You can do more with MS Office today than ever. You'll need to purchase the license to use it, and it will be worth it.
LibreOffice
Libre Office is like many other office suites, including the Google Suite and MS Office, but is a free and open source application that generates over 100 million in revenue with its premium versions today. You'll find everyday office applications here from word processing and spreadsheets like you would with every major tech brand today. It isn't called Pages or Word, but it is a similar program where you can make .doc files or other files compatible with other applications used by businesses today.
Whether you are one of the hot commercial audio visual companies in the world or a startup beauty salon, LibreOffice can help you stay organized. It is compatible with Windows, macOS iOS, and Linux systems as well. It was first released in 2011 but is developed in over 100 languages and countries and used globally and easily by millions.
When you are a startup, you have two things on your mind to ensure your company's success. You want to turn a profit, and you want to do that on a budget. That is easy to do with any of these applications listed as the best software for startups. Make your business life easier and more successful by investing in the right software licenses, or downloading safe and credible free and open source applications.