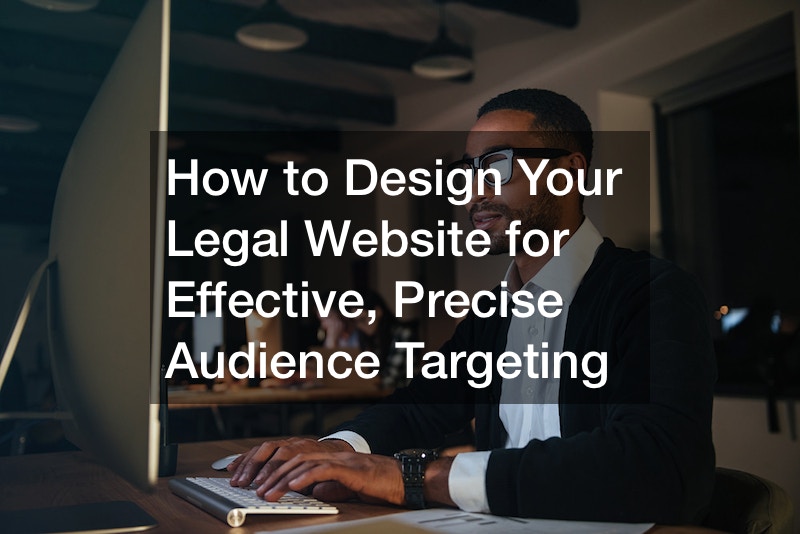 How to Design Your Legal Website for Effective, Precise Audience Targeting

Websites are the most functionally robust business marketing tools on the internet. They started as brochures, giving information to clients and prospects. Now, they boast many features customized to the specific business they are custom-made for.
Creating a unique and compelling online presence using your website is now easier than ever. This cuts across all business sectors. Whether it's hospitality, construction, or legal services, a customized website will benefit precise audience targeting. Potential clients can now sign up, make bookings and payments, chat with your company representative, download resources, see announcements, get online consultation services, become part of a community, and get all the basic and in-depth information they need about your service scope.
Law firms and legal professionals provide key services always on demand. Still, with their rise in numbers, they must find a way to advertise themselves competitively, practice precise audience targeting, and establish credibility in this digital age. A well-designed website serves as the virtual face of your law firm, and depending on which specific type of attorney you are, you have a chance to add custom features to your website design that speak directly to your expertise and value proposition in a way the intended audience can resonate and connect with.
Divorce Law Practitioners
There is a stark difference between an immigration lawyer and a divorce lawyer. They practice completely different types of law and serve clients with specific needs. As such, how each presents on a social media site or a website will differ. When designing a custom website for a divorce law firm, empathize with the emotions and concerns of people going through a challenging marriage.
These potential clients are either contemplating divorce, already separated and want to file, or already divorced but are struggling with the 'aftershocks.' Incorporating a soft, understanding, compassionate, and supportive tone in your website's content helps your potential clients feel understood and reassured. You should highlight your firm's divorce law, mediation services, child custody, alimony, and asset division expertise. Doing this is part of a smart, precise audience targeting plan.
It allows people to find the exact information they need concerning divorce issues when they visit your website. They will feel like you understand what they need, and they'll be confident while seeking legal assistance during such a sensitive process. Even though divorce doesn't attract positivity, seeking consent and featuring testimonials from satisfied clients establishes trust and credibility in your services. Sometimes, divorce escalates and later morphs into a child custody case. You must include that you always have a custody lawyer or two on board during the divorce proceedings who can advise just in case. This way, your potential clients know you are proactive and have their back.
Medical Malpractice Law Firms
Considering medical malpractice lawyers' scope of work, their websites should convey a strong sense of justice, conviction, bias towards professionalism, and expertise in the truly complex field of healthcare negligence. Precise audience targeting is fundamental in this field because potential clients often suffer harm due to medical errors, negligence, or their close family members. On the other hand, medical malpractice lawyers also represent individuals in the defensive stance of the healthcare malpractice case, such as doctors, nurses, hospitals, clinics, or other medical entities.
For malpractice victims, the medical malpractice lawyer will primarily focus on seeking compensation for their client's injuries, damages, or loss of life resulting from medical negligence. While for a defense case, they will primarily focus on getting their client absolved of any mistakes.
A law firm's website dealing with healthcare-related cases should emphasize the attorney's experience in medical malpractice cases, knowledge of healthcare regulations, and a successful track record in securing compensation for victims. The custom website should also provide on-topic educational resources like blog articles or FAQs. These showcase the medical malpractice lawyer's commitment to keeping those affected informed, feeling supported, and heard.
Personal Injury Law Firms
When people search for a personal injury lawyer, they make their considerations based on factors like experience, track record of success, reputation, and ability to communicate and handle affected people effectively and empathetically while advocating for them. Therefore, a custom-built website for a law firm that specifically handles personal injury or has a department that does so must evoke a sense of trust, reliability, and determination to protect the rights of accident victims.
They can do this in various ways. First, they can go into the details of the law firm's experience and expertise in the various types of personal injury cases we witness daily, such as car accidents, slips-and-falls, or even product liability. As part of your precise audience targeting strategy, walk the potential client through the entire process. Share how you onboard a client, prepare and present the case, and the estimated timelines between each process. With personal injury cases, clients are hoping for a predictable, straightforward, non-strenuous process.
So giving details helps steady their emotions and instill confidence. Include testimonials, success stories, or case studies demonstrating successful outcomes that inspire potential clients. Integrating clear calls-to-action, such as free consultation offers, also encourages visitors to take the next step in seeking legal representation.
According to the Harvard Political Review, 600,000 people are released annually from federal and state prisons. This high number of previously incarcerated people is a huge client base for an expungement attorney. Even though it seems like a ready market, the potential clients still need to be primed and informed about your services. You must make a great impression, considering these people have had their share of legal dealings. So, an expungement attorney's website targeting individuals with a criminal record seeking to clear their past convictions or might consider it in the short term should take extra care to use language that conveys empathy and understanding.
Using the right tone and wording should be done to effectively highlight the attorney's knowledge of the expungement process and their successful outcomes in helping clients get a fresh start. Something that's always so important to add is educational content that explains the expungement eligibility criteria, the benefits of expungement, and the potential impact on employment prospects, international travel, education opportunities, and government appointments. Doing this is helpful to both you and the client. It should form a significant part of the strategy you are using for precise audience targeting as you try to connect with the vast amount of people needing assistance with this specific legal issue.
Criminal Defence Law Firms
According to Zippia's Data Science team, over 251,159 criminal defense attorneys are in the U.S. Statistica states that the number of criminal cases filed yearly in the US for minor and serious cases is 100 million.
Criminal justice can be extremely profitable for a criminal lawyer if they use all the marketing tools and employ the best practices in precise audience targeting. Specifically, a criminal law firm's website is a great place to connect with people dealing with criminal charges. There, you can address their concerns, fears, and worries.
Your website should emphasize the criminal attorney's expertise in criminal defense. List and extensively explain their experience in handling a wide range of criminal cases and their dedication to protecting the rights and freedoms of the accused.
Providing useful information on common criminal charges, the legal processes involved, plea deals, case studies, and potential defenses can help potential clients facing charges understand their rights and make informed decisions. Make sure you include emergency phone numbers on your website. Being on call instills confidence in those seeking effective representation. If you've handled high-profile cases and won, highlight them on your landing page. Let your work speak for itself.
Workers' Compensation Lawyer
A workers comp lawyer website should be tailor-made to target and focus on people who have suffered work-related injuries or illnesses and are seeking recompense. Because of the probable traumatic experiences of these individuals, everything about the website design should exude empathy and assurance. The language you use, the photos you choose, the tone of your website, and the call-to-action should convey the attorney's extensive and detailed understanding of the emotional, physical, and financial challenges the injured workers have endured.
A worker's comp lawyer should also showcase their extensive expertise in workers' compensation law, knowledge of relevant state regulations, and successful outcomes in securing fair compensation for previously represented clients. Worker's compensation cases are sometimes quite difficult. According to Forbes.com, a small error in your paperwork can render the entire case useless, as it'll probably be rejected. Therefore, providing resources like FAQs and tips for navigating the claims process can further empower and engage potential clients seeking legal assistance.
Immigration Law Services
Immigration law services encompass a wide range of legal assistance provided by immigration lawyers who also handle specific areas of immigration such as visa applications, permanent residency placement, asylum and refugee matters, and deportation defense. For a deportation lawyer who runs a law firm, some important features can make their precise targeting strategy a breeze. First, the website's layout, call to action, and hero lines should cater to individuals facing immigration-related challenges, fearing separation from their families and communities or losing their property and money. Second, the website's design should inspire trust, cultural sensitivity, empathy, and a deep understanding of the complex immigration laws. It should also highlight the deportation attorney's experience in handling deportation defense cases, knowledge of immigration policies, and successful outcomes in protecting previously handled clients from removal from the U.S.
A custom feature to include in a website customized for immigration legal services that you can use for precise audience targeting is the ability to offer multilingual content, such as translation icons, so that they can engage with the website's information more contextually. The provision of interpreters during the consultation and preliminaries should also be on your list of services. This will facilitate effective communication with potential clients who may feel more comfortable speaking in their native language. This feature ranks you highly and drives more hot leads to your client funnel.
Real Estate Lawsuits
If a local real estate lawyer wants to target individuals seeking real estate legal services, their custom-built website should be excellent at conveying expertise in local land laws and regulations. Precise audience targeting is crucial, as real estate lawsuits are less common than criminal ones. The potential clients often need assistance overseeing transactions, looking into properties with disputes, or general property-related legal matters.
Depending on the specificity of the cases you handle, your law firm's website should look and feel like expertise. Land in itself is a sensitive matter and touches people's hard-earned money. If the potential client gets any sense of incompetence because your brand wasn't well represented on the website, they won't engage you further.
Let the website clearly articulate your knowledge, experience, and success in handling residential or commercial transactions and successful outcomes in resolving real estate disputes. Land law has a myriad of technical terms, as is the case with other areas of law, so providing resources such as a glossary of real estate terms or articles on local market trends can further engage your potential clients by helping them feel like they're in control and know exactly what they're getting themselves into.
Bankruptcy Law Services
According to debt.org, a leading debt research firm in the US, in 2022, around 387,721 bankruptcy cases were filed by both individuals and businesses. So your custom website must be able to cater to both businesses and individual clients.
The user interface must be sophisticated and user-friendly. Include tabs offering specific information about a business entity or an individual. Don't mix everything up on the same pane. Let the language inspire confidence and assurance in those seeking relief from their financial burdens.
Using a confident tone, clearly highlight the law firm's experience in bankruptcy law, knowledge of local bankruptcy courts, and successful outcomes. Offer downloadable educational resources such as bankruptcy FAQs, debt management tips, and explanations of the different bankruptcy chapters. This way, your website will portray you as the best local bankruptcy lawyer.
Designing an excellent website for your law firm requires carefully considering the target audience and their specific legal representation needs. You can effectively connect with them and establish credibility by engaging in precise audience targeting and customizing your website's content, design, and functionality to resonate with your potential clients. Whether you specialize in divorce law, medical malpractice, local real estate matters, or bankruptcy cases, an excellent website is a powerful tool for attracting and retaining clients.