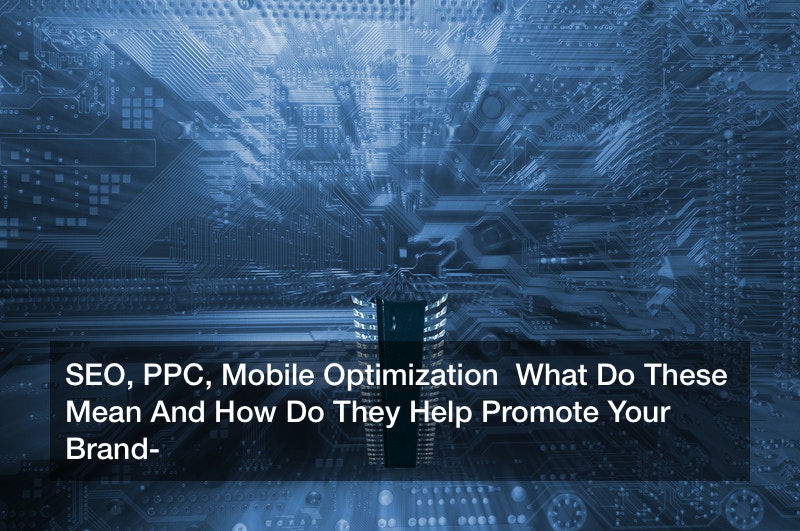 SEO, PPC, Mobile Optimization What Do These Mean And How Do They Help Promote Your Brand?


Marketing isn't always fun. In fact, it can be the most frustrating, tiring element standing in-between you and making money.
With millions of small businesses in the United States (and counting!), digital marketing is a skill that only becomes more prudent by the day. Everyone is doing their best to attract eyes to their brand, doubly so for those that don't care who sees their product. As any good fisherman could tell you, casting the largest net isn't actually how you catch the biggest fish. When you need to boost your online presence? A digital marketing service can help you hone in on your ideal audience and all the ways they interact with their preferred services.
Getting more business online isn't about yelling the loudest, but being the most clever and the most persistent. Let's take a look at all the tools available to you and how they can help.
Search Engines Are The Key To Understanding How Your Audience Thinks
How do you get the most out of your digital marketing when everyone is clamoring for attention? You turn to search engines, the number one way people find products and services. SEO is how you transform your blog posts, social media strategies, and articles into useful resources. Google alone is responsible for 95% of total organic traffic these days. Make sure the next time someone types in keywords related to your business, they actually find you.
Mobile Optimization Ensures You're Not Driving People Away
When you talk with a digital marketing service, you provide your business the opportunity to cover all bases. You have a lot on your plate, after all, and it's easy to have important details slip through the cracks. One of the most common is mobile optimization — this refers to how seamless your websites load on mobile devices, such as phones or tablets. According to a recent study, the majority of customers today will actually back out of a page if it takes more than five seconds to load. Imagine how many more eyes you could be attracting with an optimized site.
Paid Advertisements Are Only As Good As Their Design
You may think the solution to improved online visibility is throwing more money at the problem. Not quite. Your paid advertisements are only as good as their design and the social media platform you choose. Businesses today make an average of $2 in revenue for every $1 they spend on AdWords. This is an already impressive ROI that can go even further when you choose the right social media promotion strategy. Speak with an SEO marketing service and ask about whether you should focus on Twitter, Facebook, or Instagram.
PPC Gives You A Little Extra Revenue That Goes A Long Way
There are ways to make money as you make money. PPC, short for 'pay per click', is one such way to kill two birds with one stone. According to a study on digital marketing trends, one-third of respondents click on a paid search ad because it directly answers a search query. Likewise, low ROI on an advertising strategy tends to result from poor visual design or an incompatible social media pairing. If you want PPC demystified and explained, sit down with a digital marketing agency for an onboard call.
Email Newsletters Are The Best Way Of Creating Loyal Customers
What's one more tool you can add to your digital marketing toolkit? Look no further than email marketing, the digital marketing strategy with the lowest cost and highest ROI. While PPC and SEO are a good way of converting prospects into leads, email newsletters are great for transforming leads into loyal customers. These can be used to provide insight behind-the-scenes, update on recent discounts, or summaries on blog posts. The more creative (and consistent) you are, the better.
Now's always a good time to improve your digital marketing. Reach out to an agency this week and take a look at their complete marketing packages…you won't be disappointed.